Food Pantry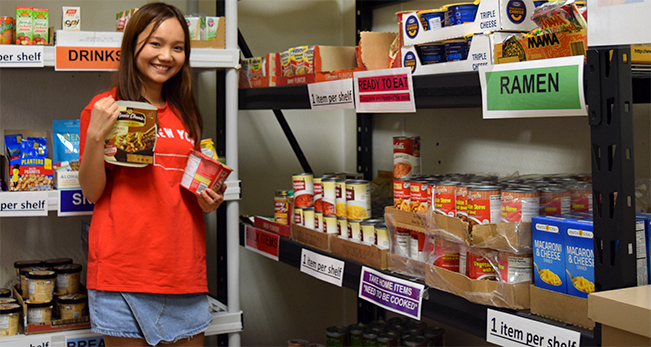 The purpose of the Food Pantry is to address food insecurity for our students.
If you are homeless or can't make it to the local food bank during class times, or you are low on your EBT card we are here for you.
We know you can't do your best in class on an empty stomach and we want you to make it to the finish line!
Location: Across from the Art Gallery in the JMB Student Center
Hours: Operating hours are posted on the Pantry door.
If you are in urgent need to access the pantry, please visit the Office of Student Life in JMB 125 or email Monica.Lundberg@seattlecolleges.edu to schedule an appointment.
Watch this video to learn more!
---
Frequently Asked Questions
Q: Who can use the food pantry?
A: Any currently enrolled student at South Seattle College.
Q: How often can I use the food pantry?
A: Currently, once per week. You will be able to select a limited number of food items in categories.
Q: What kind of food can I get at the pantry?
A: Non-perishable items: granola bars, pepperoni, nuts, raisins, canned soup, stew, beans, vegetables, fruit, noodles, ramen, rice, pasta, shelf stable milk, and juice.  We also have toiletry items, like toothbrushes, soap and pads.
Q: What info do I need to provide to use the pantry?
A: You will need to show student id/registration receipt, provide your zip code and sign a form of receipt. Please bring your own bag or backpack.
Q: How is the food pantry funded?
A: The Pantry is free for students. It is funded partially with student service and activity fees, donations and food drives. The food pantry is operated by Phi Theta Kappa Honor Society student leaders as a service project.
---
Founded in 2017, South Seattle College's on-campus food pantry provides essential food and toiletry items to students in need. During Spring Quarter 2017, the pantry served approximately 400 students and distributed 2,000 food products and toiletries.
The food pantry promotes the academic success of students living at or near the poverty line and dealing with housing and food insecurity by providing a reliable source of food on-campus. Many students may not have access to community food banks during class times or face shortages from supplemental food programs. Similar food pantries have been implemented at the University of Washington and Pierce College.
"The food pantry is helping those who have a hard time balancing school and full-time work," says Miranda Sullivan, an Associate of Arts transfer student who helped set up the pantry.
The pantry is funded partially by Student Service and Activity Fees along with community sponsors, and is supported by the United Student Association. It will also serve as a Phi Theta Kappa Honor Society's community service project.
"My hope is that the food pantry will grow after I graduate," says Emina Cheung, Associate of Science transfer student. "At this time we are in need of more donations and community sponsors."
---
Resources
If you would like to donate non-perishable goods to the pantry, there is always a bin located outside of the pantry door.
If you would like to make a cash donation to the food pantry, please contact Monica.Lundberg@seattlecolleges.edu. Thank you!
---
Thank you to our community partners!