MAST (Math and Science Tutoring Center)
Remote Operations Update:
Helps with college math, chemistry, physics, biology, statistics, and CSC courses.
MAST is open July 1 - August 20, 2020
---
MAST Tutors are available online:
Monday & Thursday: 10 a.m. – 6 p.m.
Tuesday & Wednesday: 10 a.m. – 3 p.m.
Friday: CLOSED 
Saturday: 10 a.m. – 1 p.m.
Click here to see MAST schedule.
---
You can get help or you can ask the tutor to make an appointment for you at a different time and day.
For Appointments:
You can make an appointment by yourself, too! Just follow these instructions:
1. Log into Starfish  (To learn how to do that, watch this video)
2. Search/find the MAST page and click on it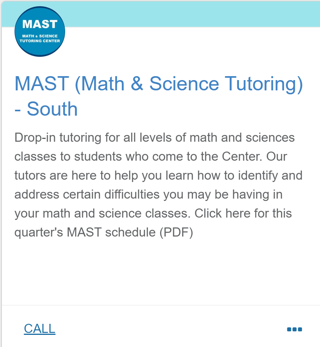 3. Select a tutor from the MAST tutors list to schedule an appointment
---
About Starfish
To learn how to log into Starfish, please watch this video: youtu.be/pLLbXX5se5Y
---
Need help or have a question? Please email us!
Marianna Asaturova, Director of Tutoring: Marianna.Asaturova@seattlecolleges.edu
Monia Hamam-Program, Coordinator: Monia.Hamam@seattlecolleges.edu
Christina Kazaryan, Office Assistant: Christina.Kazaryan@seattlecolleges.edu
Or call 206.934.6491 to leave a voice message.
MAST offers drop-in tutoring services for college math, biology, chemistry, physics, engineering, and computer science in a friendly and supportive environment.
Our tutors are current and former students and STEM professionals from our community whose mission is to help students succeed in their math and science learning.
Walk in anytime for drop-in help.
When you arrive:
Check-in at the computer kiosk at the entrance with your student ID and last name using Starfish; a new sign-in tool the Tutoring Center is using to keep track of the number of students using MAST and other drop-in centers.
Take a table flag with the subject in which you need tutoring.
Sit in an open seat with the flag displayed.
A tutor will be with you shortly.
---
Contact Information
Location: Robert Smith Building (RSB), room 18 (See RSB map.)
Regular Hours: See Operating Hours
Phone: 206.934.6650
 
Elizabeth Schoene – MAST Faculty Coordinator 
Email: Elizabeth.Schoene@seattlecolleges.edu
Marianna Asaturova – Director, Tutoring Center 
Phone: 206.934.6650 
Email: Marianna.Asaturova@seattlecolleges.edu
Monia Hamam – Program Coordinator, Tutoring Center 
Phone: 206.934.6491 
Email: Monia.Hamam@seattlecolleges.edu