Tutoring services will still be available on May 12, 2021 (Student Services/Faculty Development Day). Please access services as normal. 
MAST (Math and Science Tutoring Center)
Drop-in Tutoring:
Helps with college level math, chemistry, physics, biology, statistics, and CSC courses.
MAST is open April 7 - June 15, 2021
---
MAST Tutors are available online:
Monday – Thursday: 10 a.m. – 8 p.m.
Friday: 10 a.m. – 3 p.m.
Saturday & Sunday: 12 p.m. – 3 p.m.
For Drop-In Tutoring via Zoom: CLICK HERE TO SEE A TUTOR
---
For Appointments:
You can make an appointment by yourself, too! Just follow these instructions:
1. Log into Starfish  (To learn how to do that, watch this video)
2. Search/find the MAST page and click on it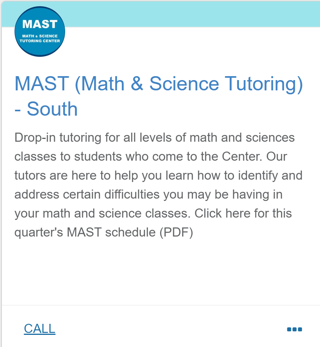 3. Select a tutor from the MAST tutors list to schedule an appointment
4. After scheduling your appointment click on the center's Drop-in link at the date & time of your appointment to meet with your tutor.
---
About Starfish
To learn how to log into Starfish, please watch this video: youtu.be/pLLbXX5se5Y
---
Need help or have a question? Please email us!
Marianna Asaturova, Director of Tutoring: Marianna.Asaturova@seattlecolleges.edu
Monia Hamam, Program Coordinator: Monia.Hamam@seattlecolleges.edu
Christina Kazaryan, Office Assistant: Christina.Kazaryan@seattlecolleges.edu
Or call 206.934.6491 to leave a voice message.
---
Contact Information
Location: Robert Smith Building (RSB), room 18 (See RSB map.)
Regular Hours: See Operating Hours
Phone: 206.934.6650
 
Joseph McEwen – MAST Faculty Coordinator 
Email: Joseph.McEwen@seattlecolleges.edu
Marianna Asaturova – Director, Tutoring Center 
Phone: 206.934.6650 
Email: Marianna.Asaturova@seattlecolleges.edu
Monia Hamam – Program Coordinator, Tutoring Center 
Phone: 206.934.6491 
Email: Monia.Hamam@seattlecolleges.edu