On-site Hospitality Certificate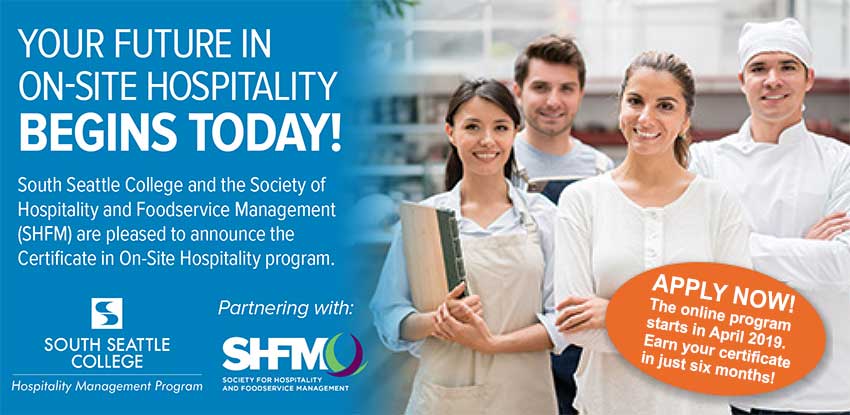 The certificate in On-site Hospitality is a short-term, 18-credit online program developed by South Seattle College's Hospitality Management department and Society for Hospitality and Foodservice Management. It is designed for students who completed their Associate Degree, or equivalent, who want to move up in the competitive field of foodservice operations.
On-site hospitality is a quickly growing industry that includes tech campuses, university campuses, assisted living facilities, large office complexes and headquarters. These operations need talented and dedicated professionals to deliver world-class hospitality. Positions include: Chefs and Executive Chefs, Event Planners and Catering Operations Managers, Café Managers, Foodservice Directors and more.
Is this the best fit for me?
The On-site Hospitality Certificate is an ideal fit if you are interested in joining this exciting industry with a foot in the door. The practicum section gets students on-site with an SHFM member, where you'll have an opportunity to learn firsthand about career pathways and company culture and values. Students have a built-in opportunity to shine and show their passion to employers.
For SHFM members, this new certificate is an exciting opportunity to provide professional development to current employees interested in an upward career move.
 
For prospective students:
If you are interested in working for companies such as Compass, Aramark, or any of the SHFM members, this is a perfect path for you.

The program takes 6 months (two academic quarters) to complete. Students start with enrolling in two 5-credit courses online in January or September, then take the third 5-credit course and 3-credit practicum the following quarter.
Program Sequence: 
Spring Quarter:
HMG 430: Sustainable Business Practices I
HMG 330: Process Improvement

Summer Quarter:
HMG 440: Sustainable Business Practices II
HMG 315: Professional Portfolio Onsite Dining
All the earned credits are awarded through South Seattle College, an institution accredited by Northwest Commission on Colleges and Universities. The 300-level courses offered in the certificate may be transferred and used towards other degrees (we especially recommend a Bachelor's of Applied Science in Hospitality Management at South).
Admissions: 
Types of Applicants:
We accept applications from U.S. citizens, permanent residents (green card holders), and international applicants. The application process is the same for all applicants, regardless of their citizenship or visa status.
Getting Started:
Minimum requirements
Prospective applicants must hold a minimum equivalent to 90 junior level college credits.
Applicants confirming enrollment will provide transcripts and degree statement.

Applicants whose native language is not English must demonstrate English language proficiency.
Applicants will be first asked to create an online profile and obtain a Student Identification Number (SID) from South Seattle College. This process is online. Once applicant has a valid SID, they will complete an Application to the Certificate Program. We encourage students to work closely with our program manager and advisors to ensure best results.
Contact Us: 
Hana K. Gala, Lead Faculty
Hana.Gala@SeattleColleges.edu
206-934-5197