Alumni Profiles
Sharon Stukalo, 2019 Sustainable Building Science Technology Graduate
Sharon Stukalo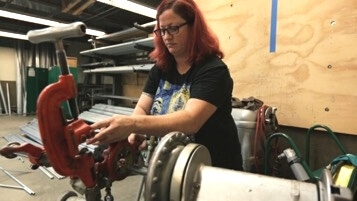 is a building science working professional who earned her Bachelor of Applied Science (BAS) degree in Sustainable Building Science Technology (SBST) from South Seattle College in 2019. She is the Construction and COVID-19 Safety Manager with The Integrated Group at SeaTac.
Now pursuing a Master of Science degree in Construction Management at the University of Washington, Stukalo specializes in occupational safety and health. Combining this stellar education with a five-year apprenticeship as an inside wire electrician and nearly 15 years in military service, Stukalo says the SBST program helped pull it all together, using her skills to drive project efficiency while preventing injuries and improving worker health and satisfaction.
"It's not a random degree; there's a distinct purpose and path to success. It was one of the best decisions I ever made." —Sharon Stukalo, 2019 Sustainable Building Science Technology Graduate 
A Steady Focus on Sustainability & Occupant Health & Safety 
Getting Credit for Previous Work Experience
Sharon Stukalo had been thinking about getting a bachelor's degree for years, but she wasn't sure what program would be the best fit for her career goals. One day, this 15-year military veteran was visiting a medical clinic in Tacoma for women vets like herself. While there, she saw a flyer on the wall that drew her attention.
The flyer advertised the Bachelor of Applied Science (BAS) degree in Sustainable Building Science Technology (SBST) at South Seattle College's Georgetown campus. It said that a trade apprenticeship could help qualify an applicant for admission, even without an associate degree. "I remembered a friend's advice," Stukalo says, "They said, 'If you're thinking about going back to school and you delay, you probably won't ever do it.'"
At that moment, Stukalo decided to check out the opportunity. She soon found out that her experience in the military and as an apprentice inside wire electrician would get her very close to the SBST academic admission requirements.
"I had building experience with inside wiring on some of the Westlake Amazon projects, 21-story residential towers, the Northgate to Husky Stadium light rail project, the seawall project," Stukalo says. "I quickly earned my AA with a math class, public speaking, and physics."
Once she got into the SBST program, Stukalo loaded up on classes in the first quarter. "I did not have a construction management background," she says. She wanted to excel, so she dug in. "My educational experience was much better than it was in high school. I appreciated it more."
One of the things that Stukalo values most about the SBST experience was the chance to collaborate with people from different locations. The students formed study groups that met a couple of times a month to help get through the challenging curriculum. "It was a good process to get the others in," she says. "They were adult learners who brought different contributions. One person was dealing with waste, one formed a carpenter unit."
On the Job Training & Academic Depth
Stukalo especially enjoyed the senior capstone project. "There is so much flexibility on what you can do," she says. For her project, Stukalo analyzed the building tune-up process, and published an article on the topic. "The BAS prepared me to apply expertise and systems knowledge to support highly technical building operations."
| Job Title | Construction and COVID-19 Safety Manager, The Integrated Group at SeaTac International Airport.  |
| --- | --- |
| Summary | Stukalo is a journeyman inside wire electrician who completed a five-year apprenticeship program with the Local 46 after a nearly 15-year career in military service. |
| Education | Earned BAS degree from SBST (2017-2019) with honors and went on to enroll in a Master of Science degree program in Construction Management at UW. Active as a teaching and research assistant. |
After graduating in 2019, Sharon decided to continue her education and on-the-job training by enrolling in the Master of Science program in construction management at the University of Washington. She serves as a teaching assistant as well as a research assistant working on the PhD thesis of another student. Their focus is on the safety record and injury rates of construction workers who move heavy materials using a cart system.
An Accessible, Useful Program of Study
Over the summer, Stukalo completed an internship as an assistant project manager at KT Contractors. KT is a construction company with offices in North Idaho, Salem, Oregon, and Tacoma. Now, she's a Construction and COVID-19 Safety Manager for The Integrated Group, subcontracted to Scarsella Brothers, Inc., at their SeaTac Airport location.
As a graduate, Stukalo would encourage others to consider the SBST program. "It's great for anyone who wants to get into facility management, or anybody who wants to be the owner of a building," Stukalo said. Another set who would benefit are people in the trades who've completed an apprenticeship and are at the journeyman stage, but are not yet ready for foreman positions.
Stukalo recommends the program for instructors at trade skill educational institutions who might want to incorporate into their classes some of the green tech affecting the industry. It's also a great course of study and credential for people interested in doing building tune-ups, Stukalo says. "All they need is the bachelor's degree and some experience."
"The SBST degree, which builds on my prior education and work experience, positioned me to launch a career where I understand building functions and finance," Stukalo says. "I'm able to manage structures that are healthier and more durable, efficient, economical, and sustainable."
For More Information
The South Seattle College Sustainable Building Science Technology Bachelor of Applied Science degree program offers highly technical building systems training combined with leadership skills development, putting graduates on track to career success in a growing field.
To learn more, please email SustainableBldg-SSC@seattlecolleges.edu, call 206.934.6783, or visit our program webpage. 
Follow the Sustainable Building Science Technology program on Facebook!