Message From The President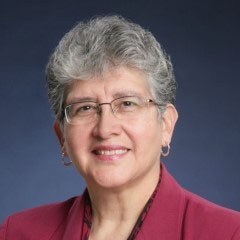 Dear South Seattle Colleagues, Students, and Community Members,  
As a former employee and past Guided Pathways Coach for the college, I have experienced the heart and soul of South Seattle and am honored to serve in this temporary leadership role of Interim President and offer a sturdy bridge to help continue the many educational and community services that we offer.  
I am passionate about the college's collective impact on student lives through educational programs that lead to high-wage employment, career mobility, and flourishing communities. As a first-generation college graduate and Latina, I can identify with the diverse backgrounds of many of our students at South Seattle College I am proud to work with colleagues who are committed to changing lives on a daily basis and enriching the growth of the community with a talented, trained workforce.  
Striving to become an anti-racist institution, I will demonstrate my personal commitment to dismantling oppressive systems for our students, employees, and community. We will focus on our policies and practices on an ongoing basis and work to eliminate barriers that are keeping our students from achieving their educational goals. In the same manner, we want to be responsive and proactive to the educational needs of industry and the community we serve. 
I bring my passion for student success, my guided pathways experience, and my commitment to creating an equity-minded culture. I look forward to connecting with you.  
Go, Otters! 
Jean Hernandez, Ed.D. 
Interim President, South Seattle College