Announcing the Launch of South's Newly Redesigned Website
South Seattle College is proud to announce the launch of our newly redesigned website on August 19, 2019! Over the past year, South's communications & marketing team (Public Information Office) has been working with the Seattle Colleges District web and communications staff to build a new website that better reflects our campus community and program offerings, improves navigation for students, staff, and faculty, and provides a refreshed "digital front door" for new students interested in learning at South.
In addition to the main college website, we have also updated our Georgetown satellite campus site and created a separate News Center for college-wide news and updates.
Tell Us What You Think!
Your feedback is very important as we strive to develop a website that is valuable to you. Please submit any questions, comments, or concerns to this feedback form.
Please Note: Staff and faculty should use the web ticket system email to submit specific web page edits and requests.  You are welcome to use the feedback form linked above for general feedback.
New Website Highlights:
Truly mobile responsive: Check out the website on your mobile phone and tablets. It's a much cleaner experience than our current website.
Updated navigation: Main menu and audience landing page architecture has been updated to help you find the information you need more intuitively and efficiently. 
New ways to explore our programs: Future students can now explore our programs in a variety of ways, including by Area of Study, Program Type, Student Type and an A-Z Index.  Explore here.
Dedicated audience landing pages: If you are looking for a link you were used to finding on our old homepage, there's a good chance you'll find it on our audience landing pages for Students, Employees and Community (more information on Student landing page can be found below).  You can also explore our Quick Links, found by clicking the search icon on desktops or expanding the menu icon on mobile).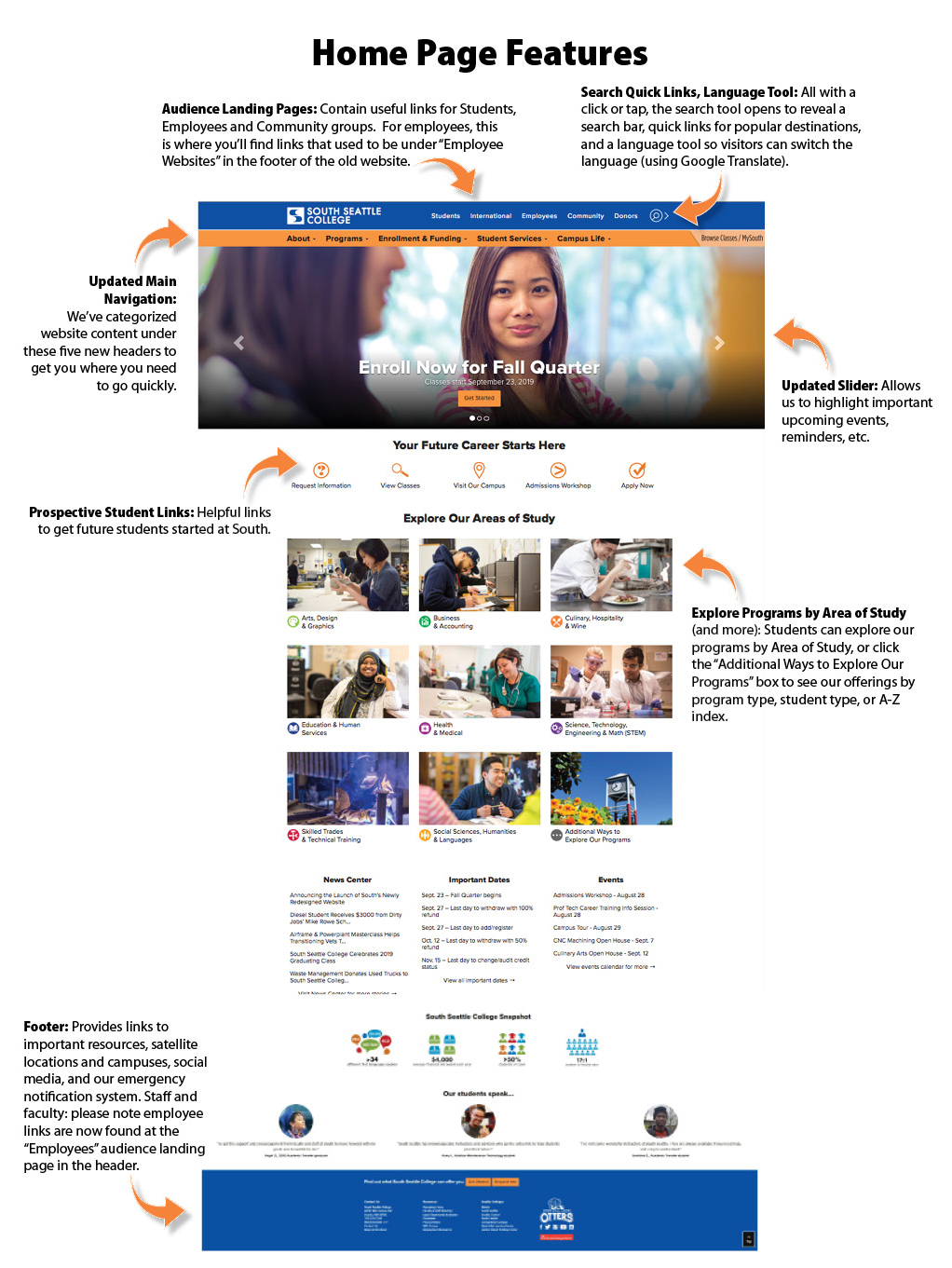 A new page just for students!
Students now have a dedicated webpage with helpful resources and important links to various sections of the website. Click here to view. Here are some highlights:
Main Student Links: We have included eight of the most popular links used by students at the top of the page, including MySouth, Canvas and Office 365.
News Section: This section shows the latest South news stories. Click a story to be taken to the updated SSC News Center.
Navigation Boxes: Check out these seven boxes for access to a variety of helpful links for current students, including registration and funding information, academic support resources, technology resources, Student Life offices and services, calendars and schedules.   
Twitter Feed: Scroll through our Twitter feed to see the college's latest tweets. Give us a follow @SouthSeattleCC to keep up with all things South!