Make Advance Appointment or Drop-In
Drop-in Tutoring:
Provides writing assistance to all students registered in any academic course at South that has written assignments, such as English, History, Psychology, Economics, Environmental Studies, and many more.
Writing Center is open April 12 - June 12, 2021
---
Writing Center Tutors are available online:
Monday – Thursday: 10 a.m. – 7 p.m.
Friday: 10 a.m. – 2 p.m.
Saturday & Sunday: 11 a.m. – 2 p.m.
---
For Appointments
You can make an appointment by yourself, too! Just follow these instructions:
1. Log into Starfish  (To learn how to do that, watch this video)
2. Search/find the Writing Center page and click on it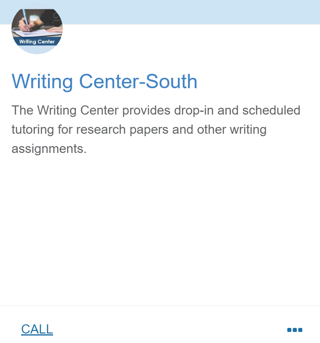 3. Click a tutor from the WC tutors list to schedule an appointment
4. After scheduling your appointment click on the center's Drop-in link at the date & time of your appointment to meet with your tutor.
---
About Starfish
To learn how to log into Starfish, please watch this video: youtu.be/pLLbXX5se5Y
Students may stop by LIB205 (campus map) to sign up for an appointment in advance, or they may drop-in to see an available tutor anytime during open hours.
Starting Winter 2020: Students will have the option of making WC appointments online.
---
Contact Information
Location: South Library (LIB), room 205 (See campus map.)
Regular Hours: See Operating Hours
Phone: 206.934.6412
Elijah Dow- Writing Center Program Coordinator
Email: Elijah.Dow@seattlecolleges.edu
Marianna Asaturova – Director, Tutoring Center 
Phone: 206.934.6650 
Email: Marianna.Asaturova@seattlecolleges.edu
Monia Hamam – Program Specialist III
Phone: 206.934.6491 
Email: Monia.Hamam@seattlecolleges.edu